New England ISTE is an organization that represents the ISTE affiliates in the states of Connecticut,  Maine,  Massachusetts, New Hampshire, Rhode Island, and Vermont. Our goal is to provide a forum for coordination and support of the state-wide initiatives involving technology organizations across the region.
---

Google Tools to Level the Playing Field for Challenged Learners!

Thursday, May 21st at 7 PM EST

Reach all students with Google Tools including special education, ELL, and challenged learners. Participants will observe how to use Google Presentations, Google Docs, Google Sites, Google Search, AND Google Forms through live examples from a Google Certified high school teacher of special education and co-teacher of science and social studies.

 

        
---
ISTE

 - June 28 - July 1 - Philadelphia 

(See bus info BELOW!)
NEISTE Reception at ISTE Monday, June 29th 5:00-7:30 at the Sheraton 
VITA-Learn
 - Dynamic Landscapes - May 21-22 2015 TBD 

Champlain College


ACTEM

 - October 15-16 2015 in Bangor


CECA - October 25-26 2015 at Mohegan Sun
MassCUE - October 21-22 2015 at Gillette Stadium
VITA-Learn - Vermont Fest - 

November 4

, 5, & 6 

2015

 


NHSTE

 - December 

1

-3 Pre-conference Nov. 30 Conference 1-3 in Manchester - The Radisson & Expo Center
---
If you are going to be at ISTE2015 in Philadelphia...
Join us for the NEISTE Reception!
New England Mixer!
Cocktails and appetizers!
Monday, June 29th from 5-7:30 PM
5:30PM - 7:30PM 

Horizons Rooftop Ballroom
Sheraton Philadelphia Downtown Hotel
201 North 17th Street 

Philadelphia, PA 19103

Register Here!
 The registration will help us plan the room and food and enter you into a great door prize raffle! You must be present to win.
---
 All Aboard the ISTE Bus!     
For more than three decades the ISTE Conference has been the premier forum in which to learn, exchange ideas and survey the field of education technology. The event attracts upwards of 18,000 attendees including teachers, technology coordinators, administrators, library media specialists, teacher educators and policy makers. The conference is packed with world-class keynotes, hundreds of sessions in a variety of formats and a massive expo hall.


ISTE 2015 Bus Information From Rhode Island:
ISTE, the world's premier education technology conference, is in Philadelphia this year, and Highlander Institute/RISTE is chartering a bus to take Rhode Island educators/administrators there! The ISTE conference is June 28-July1st. The bus will leave New England Tech's parking lot Saturday June 27th at 11:30AM
(arriving Philadelphia around 5:30PM) and will return July 1st around 7PM (departing Philadelphia around 2PM).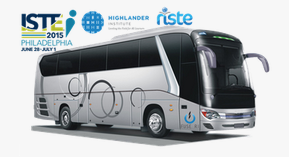 If you're interested, the round trip tickets to ride the bus are $150 and includes food, snacks, drinks, Wi-Fi, and power. We also guarantee fun games with various prizes. Tickets purchased online offer guaranteed seats. Boarding and seating is conducted on a first-come, first-serve basis.
Don't miss this fun/affordable bus trip that gives RI educators a great chance to connect and participate in one of the best professional development opportunities of the year. Reserve your seat today! www.ISTE2015BUS.com
ISTE 2015 Bus Information From Maine:
  • The ISTE conference is
  • The bus will leave from the Portland area on Saturday June 27th at 9AM
  • Return trip leaves Philly on after the closing session
  • Tickets to ride the bus are $50 for members and $70 non-members
  • Your ticket include a T-shirt, snacks, nonalcoholic drinks, Wi-Fi, and power
  • We also guarantee fun and shenanigans.
Click here to register for the Maine Bus 
http://actem.wildapricot.org/event-1749649